About 18,000 Australians have been evacuated from flooding across New South Wales (NSW) as heavy rain continues to batter the east coast.
Days of torrential downpours have caused rivers and dams to overflow around Sydney – the state capital – and in south-east Queensland.
Officials say the "one-in-a-50-year event" may continue all week and have urged the public to exercise caution.
Prime Minister Scott Morrison has offered funds for those forced to flee.
"It's another testing time for our country," he told Sydney radio station 2GB on Monday.
There has been widespread damage in the affected areas, which are home to about a third of Australia's 25 million people.
NSW Premier Gladys Berejiklian said many of the communities "being battered by the floods" had been affected by bushfires and drought the previous summer.
"I don't know any time in state history where we have had these extreme weather conditions in such quick succession in the middle of a pandemic," she said.
Emergency services have conducted at least 500 rescues, including winching people from cars. One stranded family was lifted from their flooded home by a helicopter.
Responders also saved a family with an infant from flooding in their home in Sydney's west.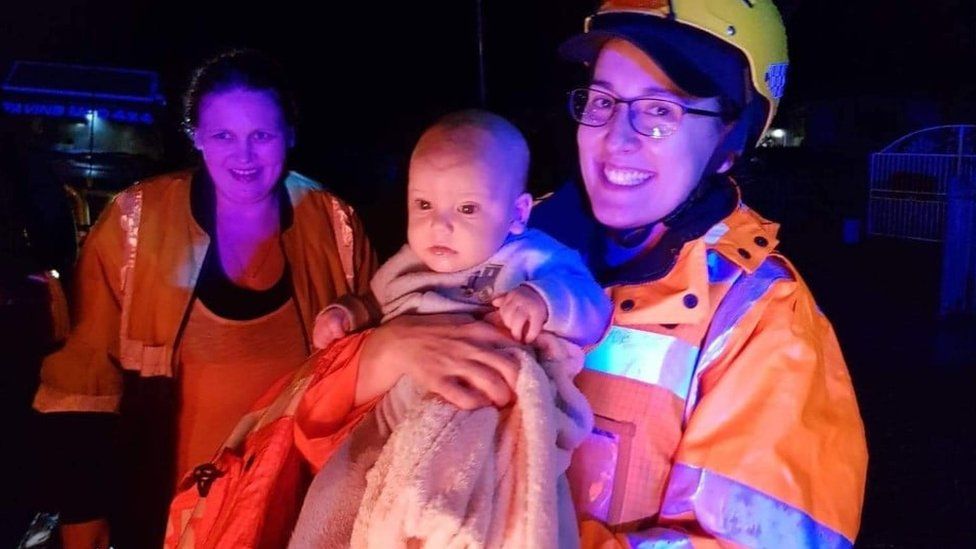 Australia's Bureau of Meteorology has said the rainfall – up to 1,000mm in some areas – has been "extraordinary" in the recent days.
On Monday, authorities were most concerned about residents in the low-lying areas north and west of Sydney, the NSW Central Coast and the Hawkesbury valley, as the weather system swept inland.
What has happened so far?
The flooding has caused havoc across NSW, forcing 15,000 evacuations on the state's Mid-North Coast and a further 3,000 in Sydney, officials said.
Swollen rivers have cut off roads and bridges and forced about 150 schools to shut on Monday.
There have been images of livestock floating through flooded areas and rows of houses engulfed up to their windows.
The Hawkesbury and Nepean rivers – which border Sydney to the north and west – reached higher levels on Monday than during a devastating flood in 1961. Forecasters said the Hawkesbury river could peak at around 13m (42ft) later in the day.
In addition, the Warragamba Dam, Sydney's main water source, has began spilling over for the first time in five years. Authorities said it was discharging about 500 gigalitres a day – equivalent to the volume of Sydney Harbour.
On Sunday a young couple saw their house north of Sydney swept away by flash floods on what should have been their wedding day.
Shocked neighbours filmed the uprooted three-bedroom cottage bobbing along the Manning river after it burst its banks.
Flights have been suspended at Newcastle Airport – about 17km (72 miles) north of Sydney – after the runway flooded.
Authorities have also reported landslides and damage to homes from a mini-tornado which hit west of Sydney on Saturday.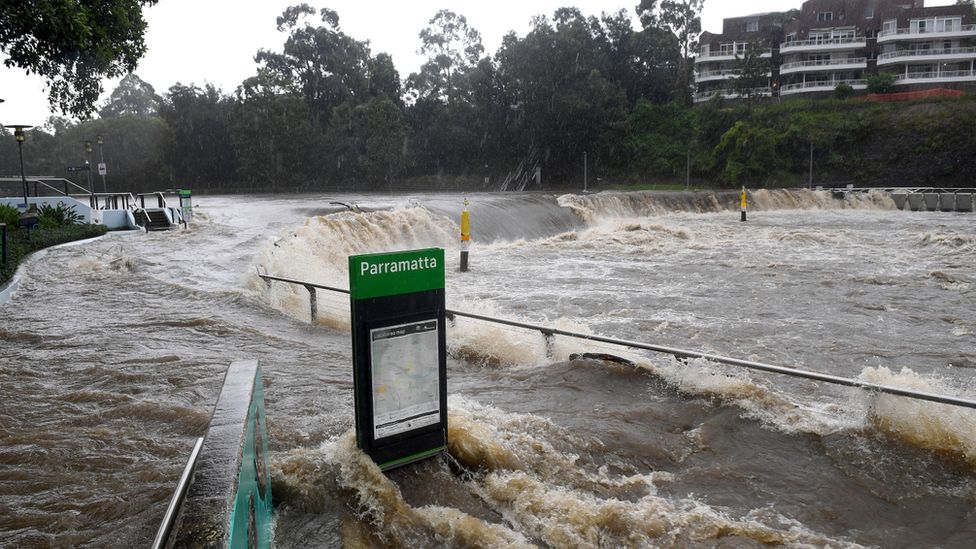 A total of 18 council areas have been lashed across NSW.
In south-east Queensland, flash floods also affected Brisbane and the Gold Coast on the weekend but conditions had eased slightly by Monday.
How serious is the situation?
Ms Berejiklian said several thousand people in the Hawkesbury-Nepean valley could face new evacuation orders.
Authorities have issued 20 such orders across the state, and declared up to 38 local zones as natural disaster areas.
"What we're going through now is different to what you've been through for the last 50 years, so please take it seriously," Ms Berejiklian said at an earlier briefing.
"It's the sustained rainfall, the fact that weather event has settled in, it's not moving on, and also, of course, the capacity of the [Warragamba Dam] spillover and what that might mean," she added.